August 1945: As Japan's empire crumbles, the island of Java braces for the whirlwind of revolution…
"An ambitious, compelling saga of men at war, captives, forced prostitution, political dirty tricks, mob terror and murder in Japanese-occupied and revolutionary Indonesia." — (Publishers Catalogue)
Read the first 50 pages FREE on Kindle!
see 'Free Taster! Download' on Menu Bar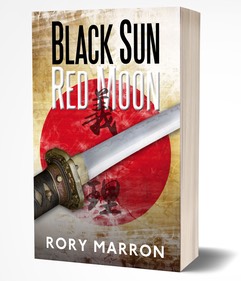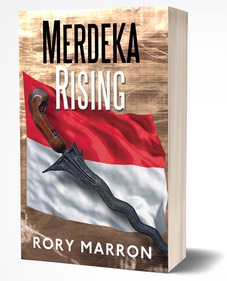 Buy Now!
Click/tap below for your local Amazon
R E V I E W S 
"Exquisitely written… An exciting and exactingly brutal slice of WWII history…" — The BookLife Prize in Fiction. (BookLife by "Publishers Weekly")
"The pace zips along…" — Army Rumour Service
"A good, realistic account of an incident overlooked. Well worth reading!" — Stuart Guild (27th Field Regt Royal Artillery, Burma 1944–45)  in DEKHO! (Burma Star Association Journal)


Youtube Video Trailer! (see Menu Bar)
"An ambitious, unconventional, mesmerising, ultimately compelling two-part saga of men at war, prisoners, forced prostitution, murder, political dirty tricks and mob terror in Japanese-occupied and revolutionary Indonesia. Marron gives us an almost tangible glimpse of the mayhem that was Java in 1945. His writing, infused with imaginative speculation, is sweeping, poignant, passionate and unflinching." (Publisher's Catalogue) 
Rory Marron's Amazon Author Page here
Paperback editions available from Amazon.com, Amazon UK, other Amazon sites as well as The Book Depository. Also available to order from many retail bookshops.
© 2013-2016 Rory Marron.
[End of page]

ePub editions available on:
iBooks Nook Kobo Scribd Inktera 24Symbols
WWII, WW2 Novel, WW2 fiction, WWII fiction, Far East War, Asia, Japanese prisoners, women captives, internees, forced prostitution, revolution, Java, forbidden love, Burma, Burma, post-war scramble for Asia, WWII, Malaya, Netherlands East Indies, NEI, Dutch East Indies, Japan, WW2 fiction, WWII novels, European colonial war, katana, samurai sword, Bali, Indonesia, travel guide, Borobudur, Southeast Asia, comfort women, sex slaves, Geneva Convention, white slavery, white sex slavery in WWII, Japanese prisoners of war, tenko, Japanese war crimes, internment camps, Japanese POW, shin gunto, kris, pamir, keris, klewang, kempetiai, kenpeitai, gamelan, wayang shadow puppetry, 旧日本海軍, 旧日本陸軍, ジァワ, インドネシ, 小説, フィクション, WW2 military fiction, WWII military fiction based on true stories, based on real events, martial arts, kendo, jukendo, kun tao, kuntao, silat, pencak silat, British colonialism, Seaforth Highlanders Burma, 4/10 Gurkha Rifles, British in Java, Indonesian revolution, small wars, British in Indonesia, surrender of Japan,